The Africa Scientifique's three-phased programme has been successfully delivered annually to the cohort of AIMS South Africa Master's students since 2020. It is a unique capacity-building programme designed to support and provide young and emerging African scientists, researchers and academics with leadership, knowledge and skills for impactful science communication, thus, contributing to the growth of it (science communication) across the African continent. The programme is delivered jointly by AIMS House of Science in partnership with African Gong.
The Africa Scientifique Introductory Workshop
The 2023 programme kicked off on 24 February with Phase 1: Introductory Workshop. The workshop participants included AIMS students, researchers and teaching assistants. It was facilitated by Dr Mpfareleni Rejoyce Gavhi-Molefe, AIMS's House of Science Manager and Dr Elizabeth Rasekoala, the President of Africa Gong. It introduced participants to the strategic background and rationale behind the AS programme development and its transformational pan-African contexts; the AS programme delivery at AIMS in terms of the organisation's vision, rationale, contexts, challenges and benefits for the students and AIMS; and global historical and contemporary contexts, practices and progressions to describe what science communication is about. The workshop also elaborated on empowering perspectives and the envisaged outcomes for participants, and the recruitment processes.
Two AS Programme alumni from the class of 2021, Ms Everlyn Chimoto, a PhD Student at AIMS South Africa and Mr Londani Tshindane, a Lecturer at the University of Venda in South Africa contributed to the session as role models. They shared challenges they had concerning undertaking science communication and public engagement activities prior to the AS programme. They further alluded to how participating in the three-day workshop and six-month post-workshop impacted their confidence, career progression and views. The latter (views) was based on advancing teaching and research approaches within the Afrocentric context and utilisation of the Indigenous Knowledge systems. Ms Chimoto and Mr Tshindane encouraged the students to leverage the AS Programme offered to them because of the benefits associated with it.
In addition to exposure to different engagement platforms, mentoring and networking opportunities, the workshop's benefits included opportunities for science communication knowledge and skills development needed by aspiring well-rounded mathematical scientists and leaders, career advancement, community engagement and solving societal problems:
"From the African Scientifique Introductory Workshop, I learnt that just gaining knowledge about mathematics and science is not enough, I need to be able to communicate the science to the general public in a way that they can understand. Secondly, I learnt that the science that we know can be of help to the general public and if we keep it inside us, its not going to be known out there. It is very important to know how to communicate science because it will help me in my career in academics and most importantly it will benefit my community and Africa at large. I also learnt that when you are talking to people, its important to know your audience so that you know how to communicate to them well."
"The first thing that I learned is that science, specifically, mathematical science needs to be interpreted in a way that the community can understand. The second thing was that our main goal as scholars should not be aiming to publish more documents but to be able to apply the knowledge that we have aquired to our own communities and solve some of the existing problems. Another thing that stood out for me was the fact that Africa scientifique program has staged itself to try and transform African mindset so as to bridge any gaps between our communitys and mathematical scientists."
"The need for African researchers and scientists to effectively communicate their science outside the academia comfort zone. The Africa Scientifique provides young African researchers with the rare opportunity to learn how to share their research knowledge to the general public in a way they can conceptualize and understand it. The need for me as a young science researcher to get out of my comfort zone and get the necessary skills for effective science communication."
What's next? A 3-day Workshop plus 6 Post-Workshop Science Communication Project Activities Mentoring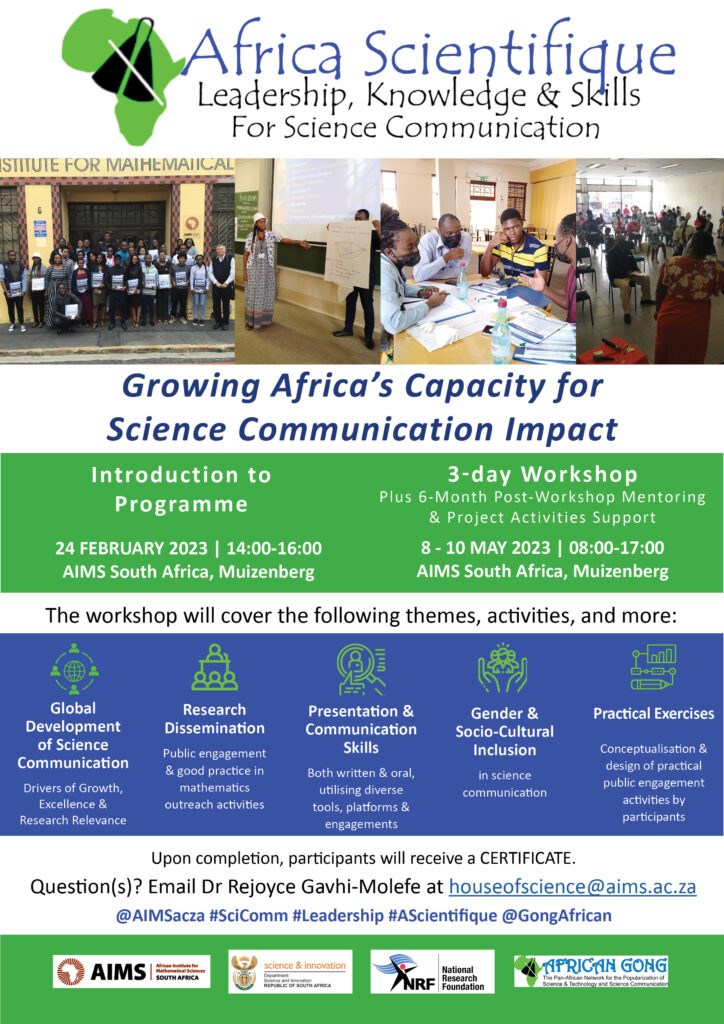 The second phase of the AS programme – a three-day intensive and interactive workshop – will take place on 8-10 May 2023 at AIMS South Africa. It will provide  opportunities for the participants to continue their journey and delve deeper into the world of science communication/public engagement and the potential leverages that it can engender for their career advancement. A key outcome of the three-day workshop will be that the participants will have to conceptualise and pitch a specific science communication/public engagement activity that they will undertake over a six-month period (after the AS Workshop) to put into practice the knowledge and skills gained from the workshop. During this period, participants will be mentored in planning, delivering and monitoring and evaluating their public engagement activities. While some students will carry out these projects in their home countries, some of these will be implemented in Cape Town.
Special thanks to Beatrice Similindi, Victoria Kioko, Sarah Gakii and Wandile Manyatsi (structured Master's students & House of Science volunteers) for assisting with the Workshop logistics.