---
Academic Director (Mathematical Sciences)
The AIMS South Africa is a residential graduate mathematics institute in Muizenberg. We have around 90 taught Master's students, as well as research-based Master's and PhD students. Our research centre hosts postdoctoral fellows and other research staff. Our students are drawn from across Africa. AIMS relies on the support of visiting international lecturers, who usually stay on site with our students.

AIMS was founded in Cape Town in 2003 as a collaborative partnership between the University of Cape Town, Stellenbosch University and the University of the Western Cape to offer tailored graduate-level educational programmes, conduct cutting-edge research and to share mathematics with the wider community. AIMS is now a pan-African network of centres of excellence for postgraduate training, research and educational public outreach in mathematical sciences. Four additional AIMS centres have been established in Senegal (2011), Ghana (2012), Cameroon (2013) and Rwanda (2016). To date, the AIMS network has graduated more than 3000 alumni from 42 African countries through its structured Master's programme.

As a place to work, AIMS offers a dynamic, international environment. We are a tight-knit community. Staff can share lunch with lecturers and students. Some of our staff have been part of the "AIMS family" since the institute was founded as a fledgling initiative in 2003!

Our 90 taught Master's students are roughly divided into two focus areas; Mathematical Sciences (50 students) and Artificial Intelligence for Science (40 students). Each focus area is managed by a different academic director, and the two academic directors work together as a team to ensure a holistic and high level of training of students at AIMS.
AIMS South Africa is seeking an Academic Director (Mathematical Sciences) for its academic leadership team. We are looking for someone:
● who has a PhD in the mathematical sciences,
● who has teaching experience at graduate and postgraduate level,
● who thinks actively about advancing graduate mathematical education in Africa,
● who flourishes doing research,
● who can lead and mentor a diverse team of academic professionals
● who enjoys working closely with students, tutors and visiting lecturers on a daily basis,
● who can build innovative academic training programs.
University experience at the level of Associate Professor would be an asset to the role.
Please click here to view the full job description.
Closing date for applications: 30 November 2023
Only shortlisted candidates will be contacted for interviews.
We hope to fill the role by 8 January 2024, or as soon as possible thereafter.
DISCLAIMER: AIMS South Africa reserves the right to disqualify ineligible, incomplete and/or inappropriate applications. AIMS also reserves the right not to make an appointment to the position as advertised. Only successful applicants will be contacted.
---
Resident Researcher in Machine Learning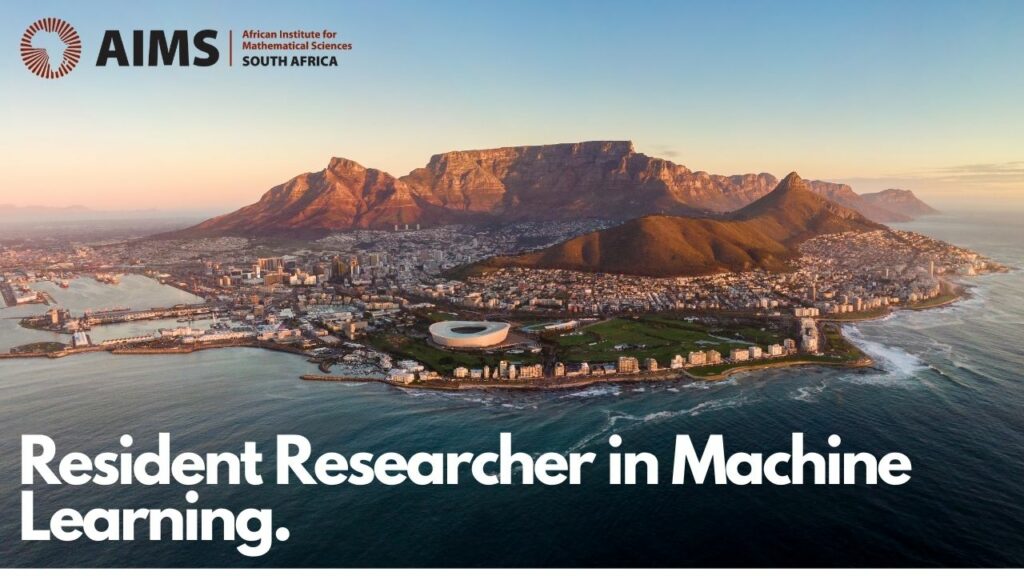 The African Institute for Mathematical Sciences (AIMS) South Africa is looking to hire a resident researcher to join its vibrant research centre. As a Resident Researcher, you will develop innovative machine learning techniques and advance scientific research. You will have the chance to collaborate with peers within AIMS and foster your own national and international network. We're looking for an enthusiastic and ambitious researcher with a passion to advance interdisciplinary machine learning research, be it theoretical or applied. Our machine learning research at AIMS focuses on enabling scientific discovery in various fields, notably ecology, and the Resident Researcher is welcome to form part of that research community.
What we are looking for:
Ph.D. in machine learning, computer science or related field.
A track record of research and scientific discovery, including publications related to machine learning.
An ability to communicate research to scientific and public audiences.
Experience in developing, debugging and publishing research code.
What you will do:
You will lead and pursue a long-term ambitious research agenda related to machine learning, including choosing impactful research problems and autonomously carrying out long- and short-running projects.
You will share research findings clearly and efficiently both internally at AIMS and externally to the research community and public, verbally and in writing.
You will enjoy working in a multi-cultural pan-African environment, 50 metres away from Cape Town's #1 surf spot. (You will promise not to leave your surfboard in our research centre!)
If you love making connections between people and ideas, and if you love starting new things, this job is for you. There are opportunities to participate in activities related to AIMS and the research centre. If you enjoy scientific freedom, this job is for you. AIMS has a social mission. If you are excited about the idea of advancing machine learning in Africa, this job is for you. If, along the road, you publish in top-tier journals and conferences, we will celebrate with you.
Duration of the position:
Five (5) years, with a possibility of renewal. Note that this is not a remote position, and the incumbent will have to be present at AIMS South Africa for the duration of the appointment.
Application process:
To apply, please e-mail the below documents in three pdf files to our recruitment team at ml-positions@aims.ac.za:
Curriculum Vitae (CV)
Cover letter detailing your relevant experience and planned research agenda
Proof of Ph.D. completion
There is no application deadline, and the position will be filled when a suitable candidate is found.
Questions about the position may be addressed to ml-positions@aims.ac.za.
DISCLAIMER: AIMS South Africa reserves the right to disqualify ineligible, incomplete and/or inappropriate applications. AIMS also reserves the right not to make an appointment to the position as advertised. Only successful applicants will be contacted.
---