A short course on Public Engagement and Communication of Data Science for Societal Impact was delivered during the 2022 CIMPA School Mathematical and Statistical Methods for Data Science. The latter took place from 18 to 29 July at AIMS South Africa in Muizenberg, Cape Town. The former (course) was offered as an added value enrichment for the participants and was facilitated by the House of Science Manager, Dr Rejoyce Gavhi-Molefe.
The course provided an enabling platform for discussions and engagements concerning critical challenges that continue to hinder young and emerging African mathematical and statistical scientists in disseminating and communicating data science research with non-scientific audiences, industries and science policymakers across different formats, and tools and platforms.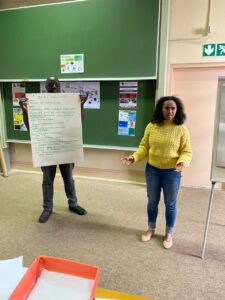 During the course sessions, participants were afforded opportunities to engage in small group discussions, share their experiences and insights, and interrogate various gaps fundamental to and across the science, technology and innovation policy, practice, research, resources and capacity-building divides on the African continent. The sessions also highlighted and showcased African-focused capacity-building methodologies, approaches, tools and good transformative practices. These were based on outcomes and impact of the Africa Scientifique: Leadership, Knowledge & Skills for Science Communication Programme that has been delivered to three cohorts of Master's students at the AIMS South Africa in Muizenberg, in 2020, 2021 and 2022, in partnership with African Gong: The Pan-African Network for the Popularization of Science & Technology and Science Communication. Various interactive and practical tools for developing successful and impactful data science communication and public engagement strategies formed the basis of activities.
The course-based feedback from the participating students and researchers was considerably good in terms of creating interest in science communication for them, helping them reflect on their duty as aspiring African data scientists addressing the local community issues. The students described the course as very informative, engaging, impactful, empowering and transformative, and appreciated it (course) for enhancing their science communication, presentation skills, confidence and knowledge. Below are testimonials from the participants, which elucidate the impact of the course.
"The organization of the course was impactful as we could engage with one another through presentations hence breaking the language barriers or the difference in science backgrounds we all have. The creation of posters made me learn a new skill of making mathematics visually in a way that is interesting even for someone who didn't do mathematics. Overall I am happy with the course."
"The confidence and skill gained from this workshop will be valuable in my career progression and science engagement."
"The session has brought up interest and more knowledge in the science communication and how we can really bring up our own ideas in reality."
"The course has given me the courage to present my mathematical knowledge on a poster. Communicate to different audiences about my mathematical knowledge.