On 30 July,  AIMS joined over 70 science, technology and innovation (STI) exhibitors from universities, science councils, national research facilities, industry, science centres, government departments and relevant non-governmental organisations across the country at the official Launch of the 2022 South Africa National Science Week (NSW). The theme for NSW 2022 is 'Celebrating the role of basic sciences in the modern world'. The  Launch, which took place at the Umlazi Campus of the Mangosuthu University of Technology in Durban, was officially inaugurated by the Minister of Higher Education, Science and Technology, Dr Blade Nzimande. During his speech, Dr Blade Nzimande commended South African scientists and researchers for their hard work and determination in finding out what COVID was, how it was transmitted and how we could slow down its spread in our communities. 
"It is science, technology and innovation that enabled us to monitor where the virus was spreading, and how it was changing. Mathematical modelling also enabled us to make predictions we could use in planning," said Dr Nzimande.
AIMS exhibition stand at the launch featured hands-on activities, posters and presentations to showcase research conducted at AIMS and the importance of mathematical sciences and their application in everyday life. AIMS exhibitors engaged learners, teachers and members of the general public present with Origami (traditional art of paper folding)
"Angizazi izibalo kodwa ngifuna ukufunda ukuze ngifundise ingane yami" ("I don't know mathematics but I want to learn so I can teach my child"  NSW parent learning Origami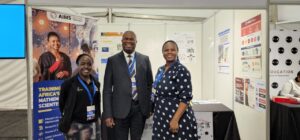 The exhibition served as an information desk about AIMS programmes (e.g., postgraduate training, scientific research and public science engagement), opportunities for graduates, learners, teachers, academics, researchers and the general public. The exhibitors from AIMS were Dr Rejoyce Gavhi-Molefe and Ms Everlyn Chimoto, a Master's student and Natural language processing (NLP) researcher.
"My experience in NSW was definitely not what I expected. We prepared materials regarding machine learning, NLP and Artificial Intelligence however the students found it hard to relate to these concepts. The audience had fun learning about Geometry and Topology as we had a demo for that. All in all, NSW was a great opportunity to learn to communicate research to a layman.", said Ms Chimoto.
"NSW is one of the excellent platforms for us to showcase the work of AIMS to the broader community in South Africa, foster excitement in the wonder of science and inspire more young people to pursue STEM studies and careers. The platform also offers our scientists an opportunity to enhance their communication", said Dr Rejoyce Gavhi-Molefe.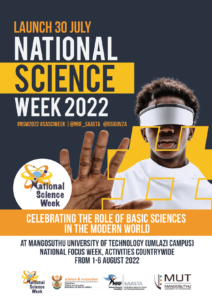 NSW is an annual week-long celebration of STI and one of the many Department of Science & Innovation-led activities to build a South African society that is knowledgeable about science, critically engaged and scientifically literate. 2022 NSW  focus week is being celebrated from 1 to 7 August throughout the country.
Special thanks to the AIMS researchers and students who contributed exhibition materials (Ms Thembelihle Dlamini, Ms Everlyn Chimoto,  Mr Rockefeller, Dr Lorène Jeantet; Dr Martha Kamkuemah; and Dr Hosana Ranaivomanana).