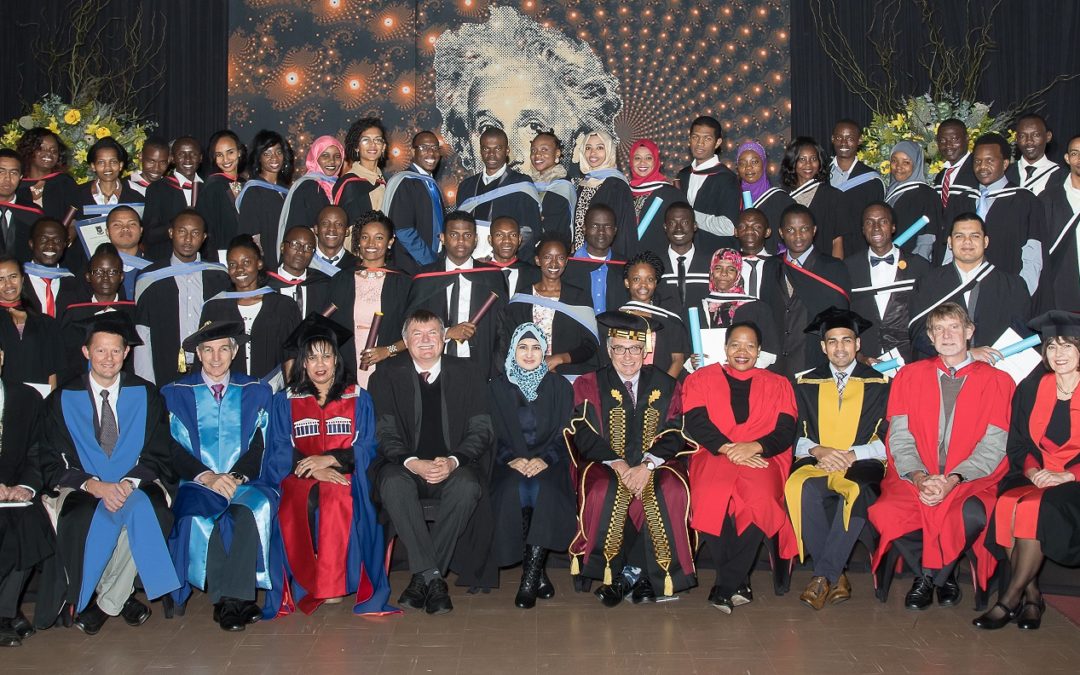 "Coming to AIMS has changed our lives for good. Before AIMS, life for some of us was all about competition. AIMS taught us that the beauty of life is collaboration. Together, we stand to win, not just the battle but the war against indiscipline, corruption, poverty and underdevelopment in Africa."
These are the words of Ms Chinenye Jane Ani (from Nigeria), one of the graduates at the 14th Graduation Ceremony of the African Institute for Mathematical Sciences (AIMS) South Africa held at the Muizenberg Pavilion in Cape Town on 20 June 2017. 50 students (including 20 women) from 17 African countries were awarded a Master's in Mathematical Sciences, bringing the total number of AIMS South Africa graduates since 2003 to 706, of which 34% are women.
The invited speaker at the event was Ms Naadiya Moosajee, Women-Eng Co-Founder, who encouraged the students to dream audacious dreams. "What you have now is a toolbox but what you do with toolbox is up to you. The world is changing so quickly and we are living in unprecedented times. Every one of you can literally go and do anything you choose. I am so proud, as an African, to see the light shining through all of you today."
The ceremony was officiated by Prof. Vivienne Lawack, Deputy Vice-Chancellor, Academic, University of the Western Cape, Prof. Wim de Villiers, Rector and Vice-Chancellor, Stellenbosch University and Dr Max Price, Vice-Chancellor, University of Cape Town.
Prof. Lawack congratulated the students and noted that the real strength of AIMS is not only in mathematics but also in the exposure students receive to research in the mathematical sciences. Prof De Villiers told the graduates, "You can truly make a difference. The mere presence of you with an MSc in the South African economy and on the continent will have a huge impact on things that matter to people in real life." Dr Price echoed this sentiment, "It is an exciting world that you are going into and there are many opportunities for mathematical sciences to make an impact on development and for you to make a difference to the world."
For the student address, Ms Ani, was joined by fellow students, Mr Evans Yeboah, Mr Felix Silwimba and Ms Rita Sianga who recited a poem that she had written. "We are Africa. We are innovation. We are mathematics. We are strong. Above all we are AIMS." She went on to say, "Our time at AIMS has come to an end. It has been everything, but unproductive. Studying at AIMS has been fulfilling. Dreams have been conceived, dreams have come true and dreams are yet to be born. But to us, we are Africa's 'dream'.
In the ceremony AIMS Endowed Scholarships were awarded to a number of top achievers by Prof. Thandi Mgwebi, Director of Research at the University of the Western Cape and AIMS South Africa Council Board Member.
The Stephen Hawking Scholarship, named in honour of the world-renowned physicist went to Mr Tanjona Radonirina Rabemananjara, from Madagascar.
The Martin Rees Scholarship, named in honour of Lord Martin Rees, who is widely acknowledged as one of the world's leading astronomers and cosmologists, was awarded to Ms Funmilayo Lydia Makinde, from Nigeria.
The Paul G. Allen Scholarship, endowed by the Microsoft co-founder and philanthropist, was awarded to Mr Morris Macharia Musyoka, from Kenya.
And two Dr Victor Rothschild Scholarships, went to Ms Emily Shobana Muller from South Africa and Ms Oluwafunmilola Oluwatobiloba Olusanya, from Nigeria.
Prof. Barry Green, Mr Morris Macharia Musyoka, Ms Funmilayo Lydia Makinde, Ms Emily Shobana Muller, Mr Tanjona Radonirina Rabemananjara, Ms Oluwafunmilola Oluwatobiloba Olusanya and Prof. Thandi Mgwebi.