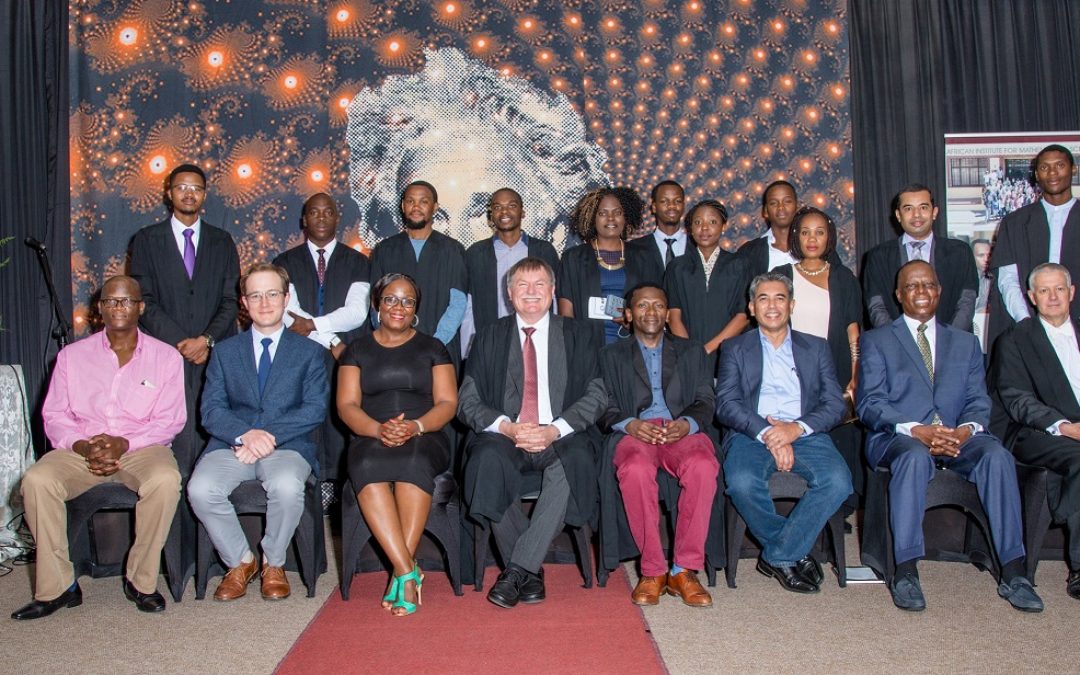 Caption: Mr Klaas Matsimane (NSF), Dr Hannes Kriel (SU), Ms Lindiwe Gwebu-Okuofu (NSF), Prof. Barry Green, Prof. Lerothodi Leeuw (UNISA), Prof. David Fisher (UWC), Prof. Diran Makinde (NEPAD) and Prof. Jeff Sanders with the January intake.
AIMS South Africa acknowledged the success of its fifth group of January intake students at a special Recognition of Achievement Ceremony held on 22 November 2016 at its centre in Muizenberg. Eleven students (including nine South Africans) received their certificates and will graduate through the partner universities that they are registered at.
The 11 graduates join the AIMS South Africa alumni group which brings the total number of graduates to 656 of which 33% are women from 37 different African countries, since the Institute was opened in 2003. In total, 57 South Africans (including 19 women) have graduated from AIMS South Africa.
Prof. Lerothodi Leeuw, School of Interdisciplinary Research and Graduate Studies, UNISA, was the main speaker. He told the students, "Mathematics and science is in your genes and it is part of your heritage don't let anyone tell you that science is not African. Look to find the joy in what you do and use the analytical tools that you have learnt to help change Africa and your own lives. The skills that this broad based MSc has provided you are very sought after in the world and very importantly AIMS has not only provided you with mathematical skills but communication skills as well."
Mr Siboniso Nkosi, one of the student speakers said, "AIMS was very challenging as we were dragged out of our comfort zone but I think it was worth it. AIMS has made me a better person and prepared me to the face the world."
He was joined by Ms Millicent Mudzudzanyi, who told her fellow students, "AIMS has transformed you, now it is time for you to use the skills that you have learnt and transform Africa."