On the 15 and 29 June, AIMS House of Science hosted two Après-Lunch webinars. The webinars provide a conducive environment for students, researchers, and mathematics devotees to interact with mathematical scientists/role models working in academia/industry and other sectors. The webinars thus enable graduate students to meet potential mentors in their careers and foster collaboration amongst researchers.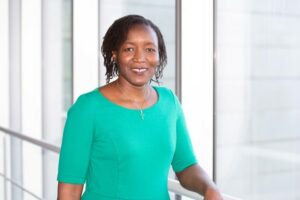 The 15 June event featured Dr Tendai Mugwagwa, a dynamic scientist and inspirational role model to many African young people, and AIMS alumna from the class of 2003 (a first graduating class). The webinar focused on "Mathematical modelling and health economics". It should be noted that Dr Mugwagwa is also a Senior HTA Manager at Pfizer – one of the world's premier biopharmaceutical companies in the UK. Thus, she shared her career journey: She was initially a high school teacher in her home country (Zimbabwe). Then she became an academic and worked in the government sector and in the industry sector.
She also shared her experiences, challenges, and benefits of pursuing a PhD degree. She encouraged the participants who would like to transition to the industry with PhD to: 
have a clear goal and plan;
identify a path to reach their goal;
build a network of contacts (e.g., classmates, co-workers, people met at conferences, through LinkedIn, supervisor lead introductions, mentors, volunteering, etc.);
identify and develop transferable skills;
upskill or gain complementary training if necessary; and
understand the differences between an academic, public sector and industry job application process.
Dr Mugwagwa went further to share some insights into the importance of Biomathematics/Biostatistics research in addressing critical developmental challenges facing our continent. She also gave examples of mathematical modeling and statistics in pharmaceuticals and emerging key trends in disease modelling from an African perspective. The participants of the day also had an opportunity to convey their appreciation for the event.
"I was interested in the speaker's Dr Tendai Mugwagwa career path since we share the same background in mathematical modeling. I was especially interested in the transition from academia to industry – a step I will be taking soon – and the webinar checked all the boxes, the way Dr Mugwagwa addressed that part made me feel more at ease with the transition in terms of how to prepare myself."
"As a student, attending this session encouraged me to work harder, to hope for the best. Given the speaker's brilliant background and experience, I, as a girl, said to myself that there is nothing that can block me in my projects because she could do it as a woman."
The webinar was moderated by Dr Gavhi-Molefe and the participants included 50 AIMS students and alumni, students from other African universities and professionals working in the industry.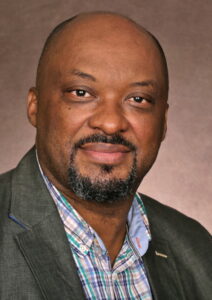 On 29 June, Apres Lunch hosted Prof. Philibert Nang, a Renowned Gabonese Mathematician currently working at the University of Pretoria, South Africa. He is a specialist in Algebraic Analysis, a field incorporating several important branches of mathematics like Partial Differential Equations, Algebraic Geometry, Representation Theory and Singularity Theory. The event focused on "Career Advancement in Mathematical Sciences: Challenges and Opportunities in Africa". After sharing his rousing career journey, Prof. Nang gave insight into his exciting area of research – the theory of D-modules, a vast extension of the concept of flat connection in differential and algebraic geometry. D stands for the ring of differential operators on a smooth space. D-modules are essentially systems of solution sets of differential equations, focusing on their extensions across singularities of the system and the underlying space.
Furthermore, Prof. Nang shared the challenges he faced during his professional career and those many other mathematicians still face in the sub-Saharan African continent.
"After my PhD, I accepted a Temporary lecturer position at the University of Paris VI till 1999. Then I returned to Gabon to teach Mathematics at the University of Masuku and the Ecole Normale Sup ́erieure in Libreville. But as a mathematician, I was completely isolated. It was very difficult to get access to mathematics journals and keep in touch with my subject. There was no internet connection. The universities in Gabon cannot pay for access to scientific online journals. That is a huge handicap for researchers, who need to stay up to date with the state of the art in their domains and who need to be exposed to different ideas in order to get their own. So I had to leave my country to remain a mathematician."
Prof. Nang advised mathematics graduates who want to embark on the mathematical career path that they should apply to visit international research centres that allow scientists to remain in their home country for the bulk of time but visit these research institutes for a short or long term.
"In these research centres, you can meet people working on the same subject, you will be exposed to great mathematicians, physicists, and scientists. Meeting great scientists is certainly a very important step in a scientist's effort to become first-class themselves. You will learn new ideas from them, and then you will be able to come back to Africa charged with the mission to change the image of mathematics, sciences and technology in Africa."
When asked about the importance of mathematics, he pointed out:  "Mathematics is a challenging but fascinating subject which has exercised the mind of mankind for four thousand years, across many cultures and civilisations. Mathematicians are always attracted by the intellectual challenge, embodied in subtle and elegant problems. Solving such problems requires careful thought, but it gives great satisfaction. There is a beauty about mathematics that is difficult to describe to those who only see it as a boring computation. It is the beauty of a landscape whose terrain may be rough but the mountain peaks shine through."
"Mathematics is a very crucial part of our day-to-day lives. We use Mathematics knowingly or unknowingly in various types of applications."
"Mathematics has gained a greater significance in the field of the latest technologies like Machine Learning, Artificial Intelligence, Data Science, Deep Learning, and many more technologies. Every new technology in today's world is directly or indirectly related to Mathematics, to develop smart simple solutions for problems. Mathematics is helping in many industries like software, medical, automobile, designing, robotic industry, etc."
The webinar was also moderated by Dr Gavhi-Molefe and the participants included 39 AIMS students and alumni, students from other African universities and professionals working in the industry.