The Africa Data Science Intensive (DSI) Program uses real-world problems to give participants hands-on knowledge of the latest algorithms and techniques in data science and artificial intelligence, deep insights on industry trends, network building and practical team skills used in business to facilitate transitioning to a data science role in industry, academia or through entrepreneurship.
The 3rd DSI Program commenced in January 2022 with 20 participants (45% of whom were women) chosen from 2268 applicants and representing eleven African countries.
"The rigorous selection procedure, which included online assessments and interviews, emphasised gender and geographic diversity with the goal of giving the brightest and most talented minds a chance to undertake a life-changing program that will equip them with the key skills for success in data science and artificial intelligence," noted Prof. Bruce Bassett founder and lead organiser of the Africa DSI programme.
The program was once again run online and an in-person workshop was held in Paarl, from 9 to 13 May, giving participants an opportunity to do team building activities, submit and present their final research projects.
Participants completed the following modules: Module 1: Regression; Module 2: Optimisation and Forecasting 3: Natural Language Processing. For the 4th module participants could choose their own topics and on 10 May submitted their final projects, which included a blog post, project report and code file. Final project topics included amongst others: an automated school attendance system; retail data analysis and customer segmentation and growth analysis; bioacoustics; object detection of solar radio bursts; data analytics for improving blood service management; plant disease classification and detection; cattle activity recognition and tracking; galaxy image classifier; computer vision applied to reptile classification; forecast and optimisation for renewable energy scheduling; modelling influenza incidence; and fraud detection.
The final presentation ceremony took place on 13 May, where invited judges, Dr Rob Adam (Managing Director, SARAO), Prof. Barry Green (Director, AIMS South Africa); Mr William Galloway (Chief of Intelligence, Voxcroft); and Mr Dries Cronje (CEO and Founder of Deep Learning Cafe) awarded the prize for best presentation to Mr Christopher Mbeva from Kenya. Mr Mbeva, also a keen farmer, presented work he had done in creating an online plant disease classifier and detection tool. Users can upload photographs and videos and receive advice and information on how to manage any problems detected.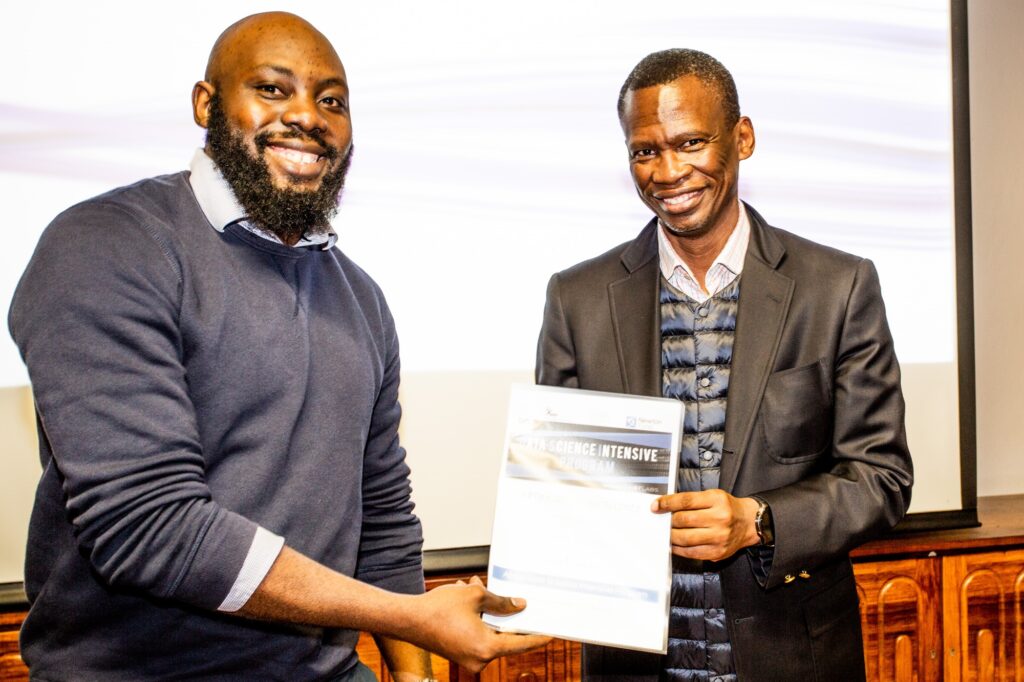 Mr Sitwala Mundia, from Zambia, was the overall top participant for the Africa DSI 2022 Program, with Ms Rhodasi Mwale, also from Zambia, in second place and Ms Amy Rouillard, from South Africa in third place.
Guest speakers at the event included Mr Khaya Sishuba, Director Bilateral Relations, Department of Science & Innovation. He noted, "It is very interesting to see how the projects selected by the participants have an impact on real life. This program really talks to the heart of the human capital development efforts being conducted by the department. I am grateful for the work that is being done and for our strategic partners, in particular the United Kingdom, who support these types of programs." For the participants he added, " Your impact will be great, the network you have created and the learnings you have achieved will go a long way to generate joint projects and interactions in the future across the African continent."
Ms Carla Sharpe, Africa Programme Manager, SARAO, also noted how exciting it was to see the diversity of projects presented that are relevant to the participants' local communities and how these can positively impact lives in Africa.
Ms Nancy Armah and Mr Arnold Kgabi spoke on behalf of the participants. Ms Armah said, "This experience was stupendous. It forced us all to grow in every area of our lives. For the last four months my whole life was DSI. Thank you to all the organisers and tutors." Mr Kgabi also added his thanks and said, "The relationships and partnerships found here will help us make a real difference. This program changes lives and it would be great to see it continue and reach out to more people."
The Academic Lead and Manager for this year's programme was Dr Nadeem Oozeer (SARAO) and participants were supported by the following tutors: Mr Martin Page, Ms Tanya Garrigoux, Mr Felix Silwimba and Mr Emmanuel Sekyi, all DSI Alumni, together with Mr Edoardo Altamura, a PhD student in Computational Astrophysics and Cosmology at the University of Manchester.
Lecturers and judges for the course came from all over the world including organisations such as Airbnb, Cambridge University, IBM, Nvidia, Netflix as well as African startups and companies such as Nosible, Optimum and VoxCroft Analytics.
A special thank you also goes to all the lecturers and presenters who either gave lectures to the participants or joined them in online chat sessions.
The programme sponsors were the UK – South African Newton Fund, SARAO and the South African Development in Africa with Radio Astronomy (DARA) BIG DATA AFRICA Programme. Other sponsors included AWS and Nvidia. The DSI is done in collaboration with AIMS South Africa and Grailabs.
Below are comments from participants:.
'This was a once in a lifetime experience. The insightful lectures, constructive feedback from tutors and exposure to cutting technologies was invaluable. Interacting with the DSI community at large was eye opening. What I learned in the DSI exceeded my expectations by way much more. Particularly the soft skills, the lectures and feedback gave me a new perspective on the potential of Data Science. I am grateful to the opportunity DSI offered me and will strive to make the best of my learnings to improve myself and impact those around me.'
'A great experience and very much worth it. As someone who is transitioning to Data Science, this has been an eye-opener. I have learnt how to learn data science. I am now confident that I can work in a DS team and excel. The program has taught me how to understand, research and develop solutions for DS problems, whether on my own or as part of a team. I would love to see this program go on and perhaps get bigger.'
'I found the challenges to be quite motivating (both the twists and the module team projects). I was sceptical about learning outcomes from implementing projects in that manner. But I came out motivated that I actually have a potential to take on such projects and plan to do so in the future.'
'The experience of working in teams improved my communication skills in group activities. The exposure I got from the other activities and guest lectures during the in-person workshop was incredible and unexpected.'
'The first talks were inspiring. The twist challenges were scary at first but it was amazing to prototype and deliver a somewhat working demo of a product in such a short time. Basically a lot of the DSI for me was empowering, and I feel like I can focus my attention on getting the important things done, even if it is crude. So much better than thinking about doing it.'
'Thanks for this wonderful program. It personally opened doors for me even before completion – two interviews that went well and an offer I couldn't accept unfortunately. But I hope to get more opportunities.'