AIMS House of Science, in partnership with African Gong, conducted a 3-day Africa Scientifique (AS) Workshop for the 2nd cohort of AIMS South Africa Master's students. The workshop was built on the 2020 Inaugural AS Workshop success. It took place from 25 to 27 August 2021 at AIMS in Muizenberg. It was part of the AS 3-phase Programme that aims to equip scientists with leadership, knowledge, skills in communicating and engaging with the broader African society.
Over the three days, the workshop was packed with networking opportunities, thought-provoking, hands-on, informative, inclusive, transformative, and interactive sessions. It was ably facilitated by dynamic and diverse African Science Communication experts and practitioners, researchers, and academics. Science policymakers established mathematical scientists and AS Programme alumni from the 2020 cohort currently pursuing careers in academia and industry also contributed to the workshop.
The 3-day workshop kicked-off with introductory remarks from Prof Barry Green, Director of AIMS South Africa; Mr Isaac Ramovha, Director of Science Promotion at the national Government Department of Science and Innovation; Dr Elizabeth Rasekoala, President of African Gong; and Dr Rejoyce Gavhi-Molefe, Manager of AIMS House of Science. The speakers emphasised the critical need to grow the critical mass of well-rounded mathematical scientists on the continent. The need for African governments and institutions to work together in strategic partnerships to deliver African-centric, sustainable and inclusive Science Communication Capacity building programmes on the continent was also accentuated. In his presentation, Mr Ramovha highlighted the national Government policy imperatives for science communication and transformation agenda in South Africa.
"South Africa needs to establish the capacity to provide training on basic science communication skills at local universities. An incentive scheme is necessary to encourage scientists to participate in science outreach", said Mr Ramovha.
Day 1 of the AS workshop consisted of three main sessions with broad and cross-cutting themes, namely (i) Research Time Management, work-life balance and successful research outcomes (by Dr Rudzani Nemutudi); (ii) Research Dissemination, public engagement and good practice in mathematics outreach activities (by Dr Elizabeth Rasekoala); and (iii) Gender & Socio-Cultural Inclusion in science communication (by Ms Azeza Fredericks). Each session started with a facilitator's short presentation, followed by a discussion session in small groups, interactive role-play activities and presentations by participants with support from their peers and them (facilitators).
Each session ended with a reflection activity to engender insightful understandings and transformative perspectives that motivated behaviour and mindset changes. Dr Nemutudi, Physicist at the iThemba LABS, facilitated participants' identification and exploration of the importance of time management in nurturing their research through leveraging local relevance and societal impact.
In the session facilitated by Dr Rasekoala, participants were provided with insight into implementing the good practice strategies highlighted in the South African National System of Innovation (NSI) policy space, within the context of science communication with diverse audiences in South Africa. During the last session, Ms Fredericks, Parliamentary Liaison manager at the Council for Scientific and Industrial Research (CSIR), challenged the to address the perceptions, challenges and socio-cultural exclusion faced by African Women in Mathematical Sciences. Furthermore, the participants had to ponder on how socio-cultural inclusion in science communication could be utilized as a tool to redress the exclusion.
The participants also engaged in exploring the empowering impact of socio-cultural inclusion in science communication, using the medium of their African local languages and Indigenous Knowledge Systems.
"Mathematics is a key solution to the existing world problems, but we emerging scientists need to be able to share it in the communities' local languages so that it impacts many people", said one participant.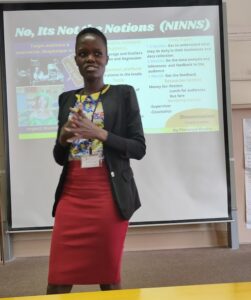 Day 2 of the workshop allowed participants to delve deeper into leveraging science communication skills and opportunities. The first session was on Leadership Skills for research, academia and future career progression by Prof Nokwanda (Nox) Makunga, a Medical Plant Biotechnology expert at Stellenbosch University. The session provided participants with contemporary insights into the changing world of academia and the need for the transferable skills that accrue from good practices in science communication and public engagement.
" A scientist's job is not only to write and publish papers but also to share their knowledge with others outside their field and use knowledge for something that will benefit the public", said one participant.
The second session of Day 2 was a panel discussion focusing on Mentoring, science communication & entrepreneurship. The panellists were Prof. Edson Pindza, CEO at ESSENSCIA – a cybersecurity company; Dr Gavhi-Molefe; as well as three alumni of 2020 AS Programme at AIMS; Ms Tintswalo Kissey Mhelembe, a graduate trainee and cloud architect at the Old Mutual South Africa; Mr Cebolenkosi Ngema, a Master's Student in Risk Analytics at North-West University; and Mr Thabang Malapane, a Master's student in Computer Vision at AIMS South Africa. Dr Rasekoala moderated the discussion. The panel members shared their experiences, insights, practical techniques and strategies on advancing and leveraging Science Communication skills, opportunities in one's career progressions, and striving for societal impact (i.e., the impact beyond the academic community) through mathematical sciences research.
The last session of Day 2, facilitated by Dr Rasekoala, focused on Presentation and Communication Skills, both written and oral, utilising diverse tools, platforms and engagements. The session highlighted many of the transferable skills from science communication that are critical in academia or STEM-related industries. These included grant proposal writing, team-working skills for collaborative research, partnerships and engagements; and empowering networking skills, enhancing visibility and research/academic/industry profiles and recognitions.
Day 3 was a highlight of the workshop as the participants had to put into practice what they had learnt from the Day 1 & 2 sessions. They were challenged and encouraged to reflect on their journey as emerging mathematicians, their scientific knowledge and societal challenges in their respective communities. With the coaching and guidance from Drs Rasekoala and Gavhi-Molefe, the participants conceptualised, designed and presented individual practical science communication project activity frameworks in three minutes using one PowerPoint slide.
"Getting a chance to conceptualize, prepare and present our proposals for mathematical projects with the social impact made me realise the potential solutions we have as science students for our communities", said one participant.
Some of the workshop participants' Post-Workshop science communication project proposals are listed in the table below.
| | | | |
| --- | --- | --- | --- |
| Topic | Objective | Audience | Maths Theme |
| Vaccination Lottery | To inform and educate people about epidemic vaccination strategies | Healing Community members | Graph Theory |
| Internet Memory | To alert social media users of the possible dangers of their current social media content on their future goals, image, and reputation. | Social media users | Statistics |
| MAntiCo (Mathematics Anti-Corruption) | Promote Mathematics methods in the fight against the corruption | Non-governmental offices | Graph Theory |
| O-Farm | To teach individual farms how they can optimize the output | Small-scale farmers | Optimization |
| Lugha Yetu | To inform language users about increasing digitized language data using Radio and Social Media | Indigenous Knowledge holders | Data Science |
| NO, IT'S NOT THE NOTIONS (NINNS) | Help local businesses to thrive | Shopkeepers | Statistics |
| YODRA (Youth Drug Abuse) | To curb drug abuse | Township youth | Probability theory |
The third day of the workshop ended on a high note: All Workshop participants were awarded certificates. Two participants – Mr Tolotranirina Andrianarisoa and Ms Everlyn Chimoto – won the AS Excellence Awards, which also include a cash prize conferred by African Gong. Over the three days of the workshop, they considerably improved their engagement and communication (e.g., presentation skills and proposal writing). Their improvement rubbed off on other workshop participants. Click Here to watch the video of participants sharing their Workshop experience.
When asked How has participating in the Africa Scientifique workshop transformed you as a young researcher with regard to science engagement within Mathematical Sciences? Some of the participants had this to say:
"Africa Scientifique workshop addressed the real issues that we are failing as scientists. It has really transformed me as a mathematical scientist to realise that the mathematics I have been learning is more important to my community by delivering/communicating to the people".
"I was one of the people who registered late because I never wanted to attend. But today, I can say it would have been the biggest wrong choice of my life not attending. It has transformed me in such a way that I see public engagement as a gift that can be trained and overcomed. I also see that science is only communicated in schools. But I will take it upon myself to help communicate at every level".
The 3-day Workshop is being followed by Phase 3 – a 6-month (September 2021 to February 2022) Post-Workshop mentoring, science communication project and Post-AIMS career progression activities with support from the AIMS House of Science and African Gong. The announcement of Post Workshop AS project winners will take place at the end of January 2021. The first, second and third prizes will be R500, R300 and R200, respectively. Phase 1 – an Introductory of the programme – was delivered online on the 24th of June 2021.
Special thanks to AIMS staff and the House of Science volunteers Ms Thembelihle Dlamini, Mr Aaron Mubatapasango, Mr Londani Tshindane and Ms Florence Owino for providing support and logistics arrangements for the workshop.