"The opportunities ahead for everyone in this room are incredible. We live on a continent that is developing rapidly and where the opportunities to change people's lives are all around us," said Prof. Bernard Slippers, Founding and Current Director Future Africa, University of Pretoria, at AIMS South Africa's 16th Graduation ceremony held on 18 June 2019.
Forty students (including 16 women) from 17 African countries were awarded a Master's in Mathematical Sciences, bringing the total number of graduates since 2003 to 812, of which 34% are women.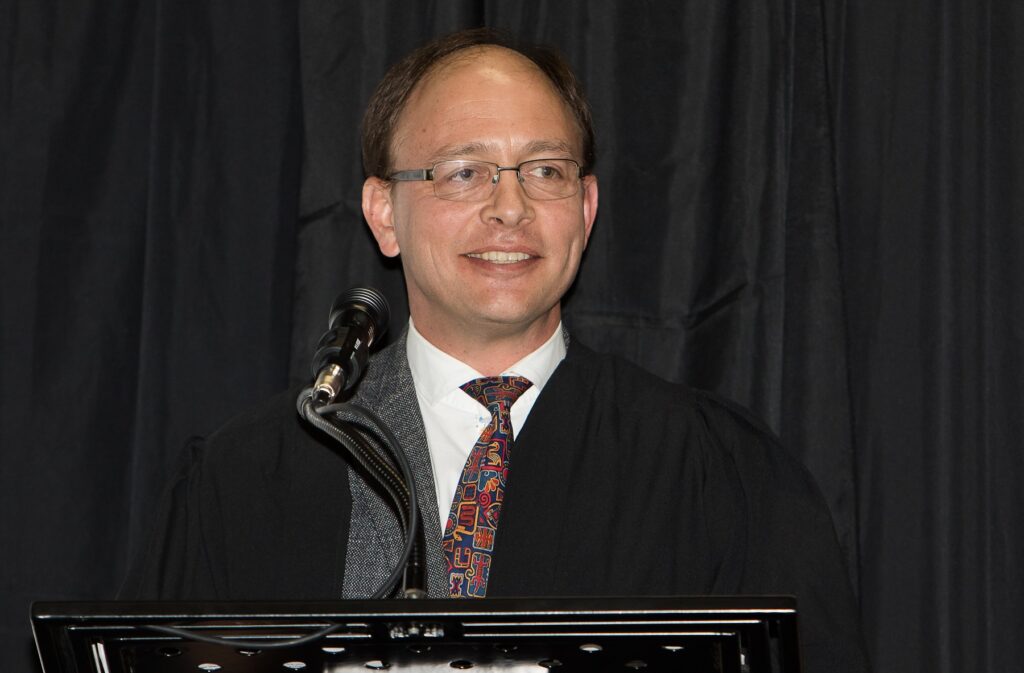 Prof. Slippers went on to say, "There is a lot of theory to say that leadership and change emerge from within communities, those who are in positions of leadership are often only the manifestation of the group they lead. This theory has an important consequence for us all it means that the change in our society is not the responsibility of someone else. It is our responsibility, yours and mine."
He invited the students to take on their roles in society, "Your degree today is more than an opportunity for you. It is a responsibility to a new tribe that you belong to. The good news is that you are not alone – leadership in not an individual, it is a collective. It requires a tribe, and you are surrounded by at least 40 other members of that tribe right here. Don't underestimate the power of that connection, of this community, to stimulate change. To start and lead change. And I am also here to say that you are not 40, but in a tribe of 1000s, in fact tens of thousands of like-minded people who are eager to take hands with you. I am one of them. I know many more who believe that together we can change this continent through science. It is important for us to find and connect these networks if we want to make big changes on the continent."
The ceremony was officiated by Prof. Hester Klopper, Deputy Vice-Chancellor, Strategy and Internationalistaion, Stellenbosch University; Prof. Maano Ramutsindela, Dean of the Faculty of Science, University of Cape Town and Prof. Pamela Dube, Deputy Vice-Chancellor, Student Development, University of the Western Cape.
Among the many friends and supporters of AIMS who attended the ceremony was Prof. Howard Alper, a member of the International Board of Directors of AIMS-NEI.
A video presentation was done by the graduating students.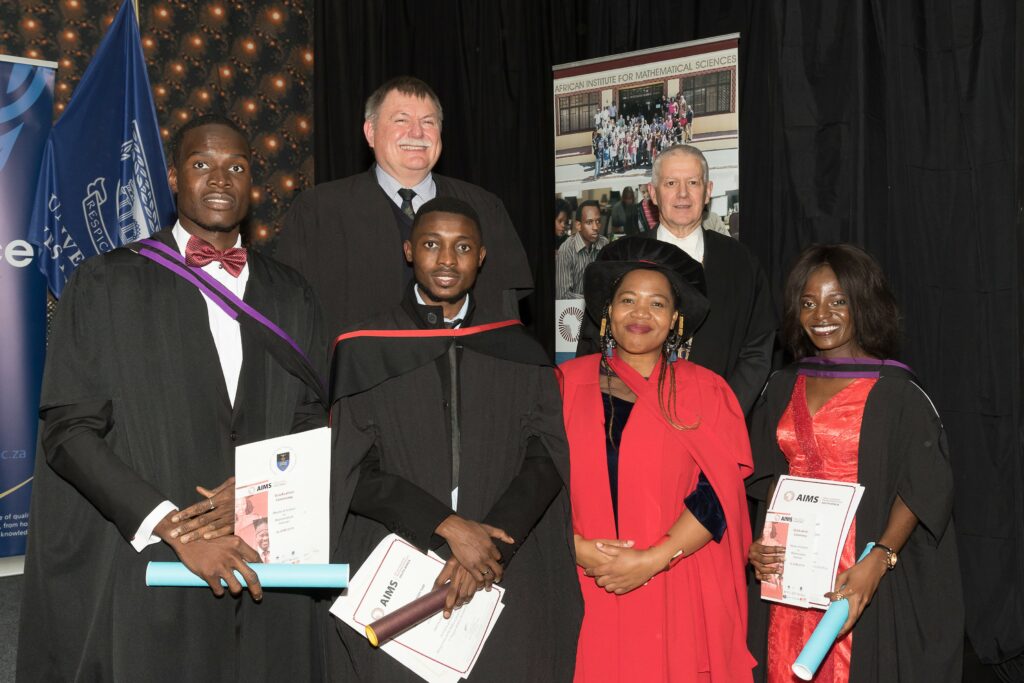 In the ceremony AIMS Endowed Scholarships were awarded to students who have performed exceptionally well during the course of the year at AIMS. Prof. Thandi Mgwebi, Deputy Vice-Chancellor: Postgraduate Studies, Research, Innovation and Engagement, Tshwane University of Technology and AIMS South Africa Council Member presented the awards.
The Stephen Hawking Scholarship, named in honour of the world-renowned physicist, went to Ms Doreen Atta Aikins from Ghana, for her excellent achievements which included a research project on 'Leveraging the human-machine interface for semi-supervised learning' under the supervision of Dr Michelle Lochner of the AIMS Research Centre.
The Martin Rees Scholarship, named in honour of Lord Martin Rees, who is widely acknowledged as one of the world's leading astronomers and cosmologists, was awarded to Mr Naftali Ndeapo Ndongo from Namibia for his achievements including a research project on 'A Comparison of Recurrent Neural Networks and Variants in Stock Market Prediction'  under the supervision of Prof. Ronnie Becker of the AIMS Research Centre.
The Paul G. Allen Scholarship, endowed by the Microsoft co-founder and philanthropist, was awarded to Mr Makuochukwu Felix Oguagbaka from Nigeria for his achievements which included a research project on 'Finite dimensional near-vector space constructions using copies of Z_p for p a prime' under the supervision of Dr Karin-Therese Howell of Stellenbosch University.
Prof. Barry Green, Director of AIMS South Africa, also gave a special word of thanks to the outgoing Academic Director Prof. Jeff Sanders. This was combined with special video messages from students and alumni who all thanked Prof. Sanders for being an incredible mentor, academic father and an inspiration to them all.