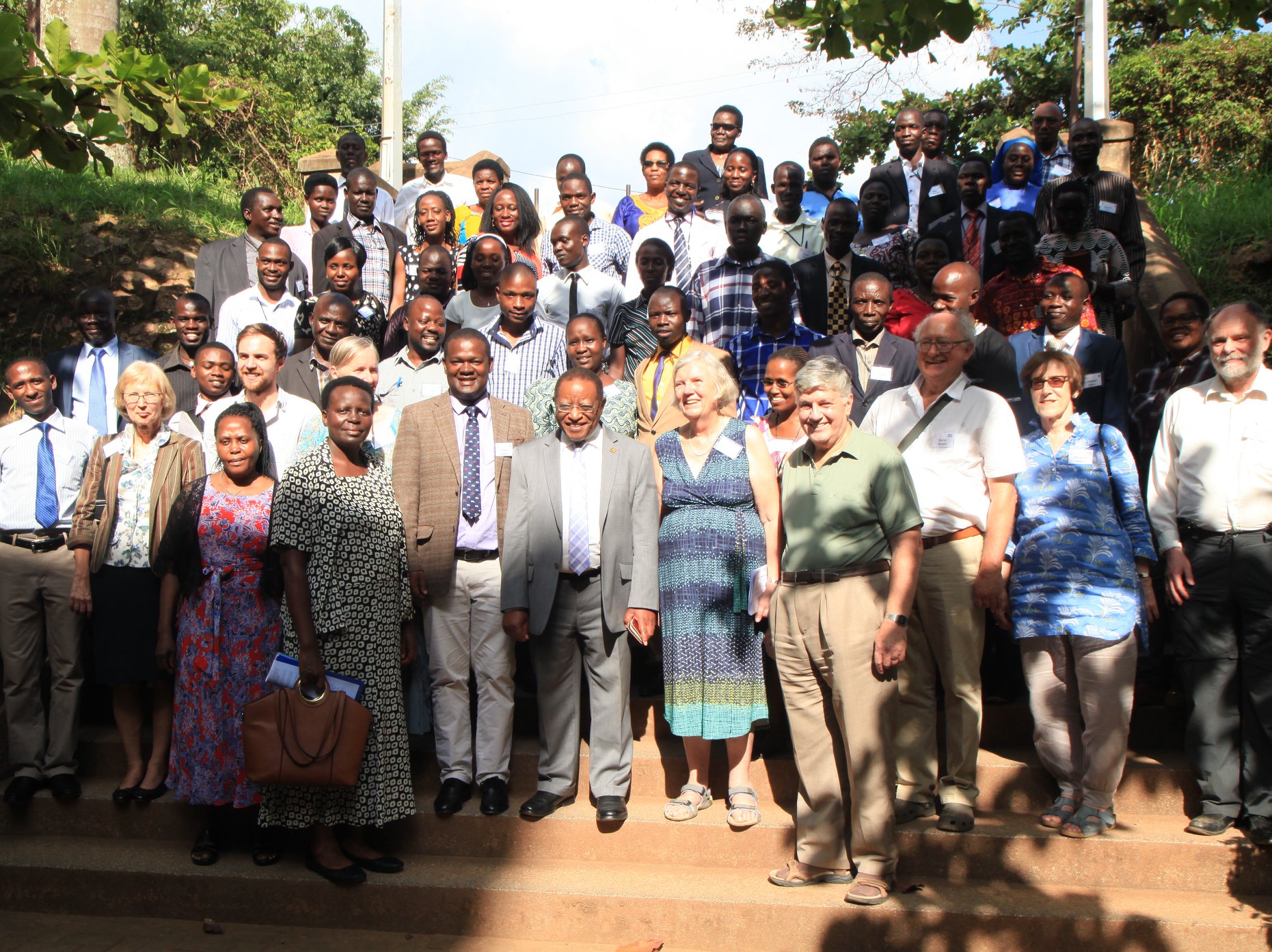 The AIMSSEC Mathematical Thinking Course was held at Makerere University from 2 to 12 January 2019 for 52 mathematics teachers and teacher educators, thirty-eight from Uganda, eight from Tanzania, three from Kenya and three from Rwanda, providing an introduction to inquiry-based learning. Through generous donations, mainly from Dr Marjorie Batchelor and her family in honour of, and as a thank you to Margaret Babirye Lwebega, all the teachers received bursaries to cover all costs of the course.
This course has been taught 29 times in South Africa and has proved to be effective and the course was very well received by the East African teachers. Feedback obtained via journal writing was very positive. The presenters for this course were Barrie Barnard and four volunteers from the UK: Toni Beardon, Christine Hopkins, Jennie Golding and Chris Clark.
The course materials were revised to match the Ugandan curriculum. The course consisted of an intensive ten-day residential course followed by three-month distance learning with three assignments. Two of these assignments were to plan, deliver, and reflect on lesson implementing ideas from the course. The third assignment required teachers to use an AIMSSEC Workshop Guide to organise a workshop introducing other teachers to the ideas on the course and to write a reflective report. This sequence provided a strong incentive for teachers to use their newly acquired ideas. Our focus was on introducing teachers and teacher educators to a teaching methodology that prepares young people with the knowledge, understanding and skills needed to thrive in the 21st century, also to support and empower teachers who are working in remote rural areas and schools in disadvantaged communities and give them free teaching resources that they can share with others.
The Closing Ceremony on 11 January was organised by our host at Makerere University Prof. Noble Banadda and the press, radio and TV covered the event. The guests of honour were the Makerere University Chancellor, Prof. Ezra Suruma and the Director of Education Standards for the Ministry of Education and Science, Dr Kedrace Turyagyenda (front row).
Everyone was impressed by the five students who gave presentations. The two VIPs said afterwards that they would like to discuss further such courses in Uganda. There seems to be a chance of obtaining funding from the Ugandan Government for AIMSSEC to run a ten-day MT residential professional development course, for primary teacher educators from fifty-two teacher training colleges and from the East African Institute for Capacity Development (AICAD) for other courses for primary and secondary teachers and teacher educators from the four East African countries.