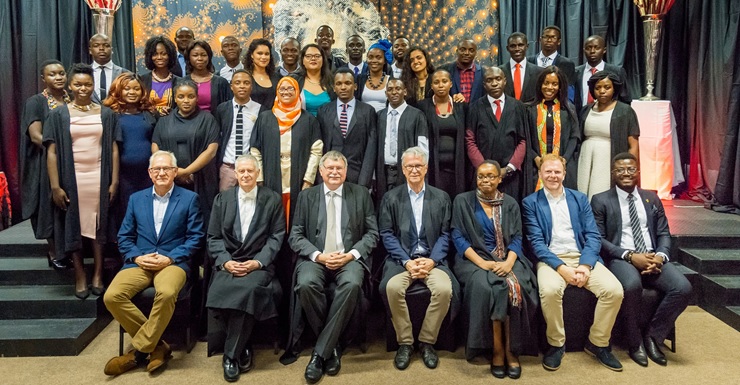 Cape Town, 14 November 2018: AIMS South Africa acknowledged the success of its seventh group of January intake students as well as the second group of students who have successfully completed the AIMS-ESMT Industry Immersion Programme (IIP) at a special Recognition of Achievement Ceremony held at its centre in Muizenberg.
Fifteen students (including 13 South Africans) received their AIMS Master's Recognition of Achievement Certificates and will graduate next year through the partner universities that they are registered at. These graduates join the AIMS South Africa alumni group which brings the total number of graduates to 772, of which 34% are women from 37 different African countries, since the Institute was opened in 2003. In total, 86 South Africans (including 29 women) have graduated from AIMS South Africa.
Twenty-five AIMS students from nine African countries also received their certificates for completing the AIMS-ESMT IIP. The students who participated in this 20-week residential and fully-funded business and employability skills programme were suitably qualified and industry-inclined AIMS Master's in Mathematical Sciences graduates from across Africa. The backbone of the programme was a 12-week internship module with participating industry partners from across Africa, during which participants experienced a business environment first hand and were able to apply their academic learnings. The IIP was launched at AIMS South Africa in July 2017 in partnership with the European School of Management and Technology (ESMT) in Berlin, with additional funding support from the German Federal Ministry for Economic Cooperation (BMZ) through the German Academic Exchange Service (DAAD).
The invited speaker was Prof. Wulff Plinke, Founding Dean ESMT Berlin and Co-founder of the AIMS-ESMT IIP. His message to the students included guidelines on how to be successful managers and he ended by noting, "As alumni you should return to the school, help future alumni fellows and do all you can to be good citizens."
Prof. Jeff Sanders, Academic Director of AIMS South Africa presented the certificates to the January intake students and in his address said, "We are confident that you are going to succeed and we believe that you can go out and conquer the world."
Ms Munira Jowaheer was awarded the Ben and Mary Turok Scholarship Award for Excellent Achievement. This award was generously donated by Prof Neil Turok, the founder of AIMS and Director of the Perimeter Institute for Theoretical Physics in Canada, in recognition of the very generous role Ben and Mary Turok have played in establishing the first AIMS Centre in South Africa and their continued interest and support of this Pan-African project.
For the student address, Ms Zakiena Hoossen spoke on behalf of the January intake students and said, "This has been an experience we will all never forget, we have learnt so much and together we have become a family and we are now all true Africans."
Mr Wanda Tsewu who spoke on behalf of the AIMS-ESMT IIP students noted, "It was an honour to work with some of the brightest minds in Africa and I have learnt that collaboration is paramount, as the youth of Africa we need to work together to effect change in our communities. We must also know our own worth as AIMS Alumni we must be proud of what we have achieved as this experience has unlocked the vast amount of potential that is in all of us."
Mr Nick Barniville, Associate Dean of Degree Programs at ESMT Berlin and Program Leader for the IIP at ESMT Berlin, presented the certificates to the IIP candidates. Dr Simukai Utete, a senior researcher at AIMS and Programme Leader for the AIMS side of the AIMS-ESMT IIP also thanked the industry partners who have provided placements for this year's students. So far this year, candidates have done placements with Letshego Holdings in Botswana, eHealth Africa in Nigeria, SuperFluid Labs in Ghana and in Kenya, Bosch Kenya, B|Braun in Zimbabwe, Hatch in South Africa, Ecobank in Rwanda and ThyssenKrupp in Ghana. This is just a sample of the many companies who have been a part of the programme, as there are more internships to start with other companies in the next few months, and several additional companies were part of the program's first year in 2017.
Prof. Barry Green, Director of AIMS South Africa congratulated the students, thanked everyone for attending and gave particular thanks to the National Skills Fund for the support they provide for the AIMS South Africa's Master's Programme and the Teacher Training Programme.