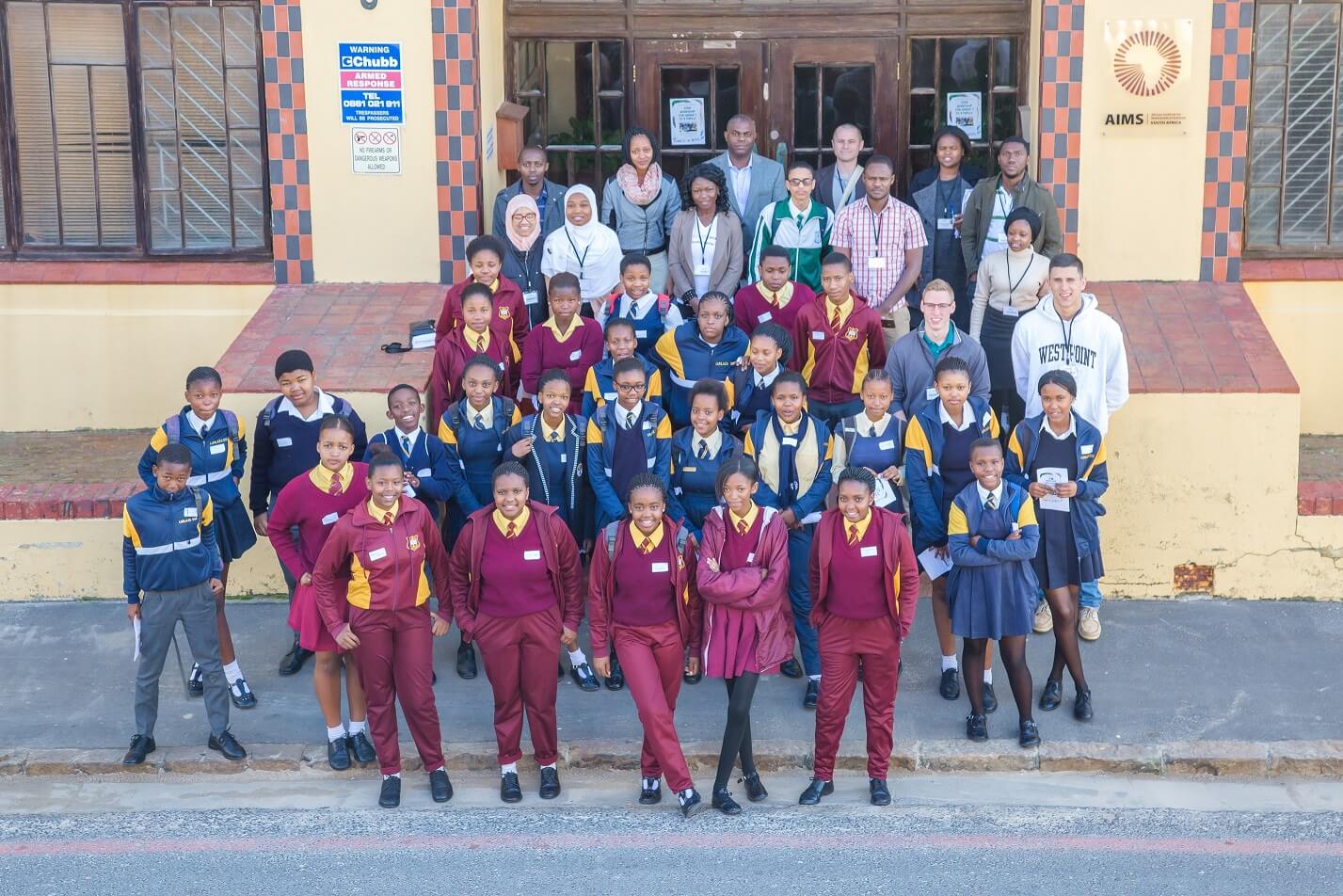 In South Africa, learners in many schools complete their final year of high school without any exposure to the applications of science, technology, engineering, and mathematics (STEM) or associated careers. They may have had no role models in STEM, let alone ones from low socioeconomic backgrounds. Worse, these learners routinely lack exposure to hands-on computer programming, an essential skill in STEM-related fields and the 4th Industrial Revolution generally. If these learners are provided with such opportunities (i.e., exposure to STEM-based careers, role models and programming), they could make career choices that they previously thought impossible and significantly contribute to our country's increasingly knowledge-based economy.
As part of our contribution to National Youth Month, AIMS South Africa hosted a FREE full-day electrical engineering hands-on workshop for middle school learners and educators on 25 and 26 June 2018. We organised this workshop in partnership with the United States (US) Military Academy (USMA, also known as Westpoint) Center for Leadership and Diversity in STEM (CLD STEM). The mission of CLD STEM is to increase the recruitment and retention of under-represented minority and disadvantaged youth populations in STEM by focusing on learners at the pre-college and university level to increase the number of learners who intend to major in STEM.
Prof. Barry Green, Director, AIMS South Africa opened the 2-day workshop which served 75 learners, Grades 6-9, from Khayelitsha, Mitchells Plain, Eastridge, Heathfield and Rondebosch. The workshop focused on developing and improving their STEM-based knowledge and skills, which are in high demand in the modern economy, as well as their interest in pursuing these fields. During the workshop, the learners were introduced to the Arduino platform (an open source, low-cost introductory tool for electrical engineering – see https://www.arduino.cc/en/Guide/Introduction) and worked with scientists from CLD STEM and AIMS South Africa to build a series of projects, such as a mood lamp and distance detector. These exercises gave the learners insight into the machines they use every day, bridging the gap between these machines and what role they might personally play someday in making such devices come to be, whether building circuits, programming them, or any of the other myriad STEM jobs.
The participants undertook active learning by editing Arduino code and wiring breadboards to modify their projects. For many learners working in pairs was one of the highlights of the workshop:
"What I enjoyed most was the part where I have to connect wire. It was my first to experience a real and circuit. I met and worked with a learner from other schools, and got some information about STEM. And I really did enjoy being here." (Grade 9 participant)
In addition to direct sessions for the learners, we also held a session focused on educators. In the evening of 26 June, after the learners departed, the CLD STEM team, AIMS team, educators, volunteers, STEM leaders from AmaQawe ngeMfundo Foundation, Thope Foundation came together to share best practice in STEM outreach and discuss future activities with this newly forged partnership. The CLD team consisted of Dr Samuel Ivy, an Assistant Professor in the Department of Mathematical Sciences and Director for the CLD; cadet Patrick Cowan, a rising senior majoring in Operations Research; cadet Matthew Rivera, a rising sophomore majoring in Business Management; Major Alvin Philips, a representative from the US Embassy in Pretoria; and Dr Carl Pearson of US Africa Command Office of Science & Technology, working to facilitate partnerships between African researchers and USA organisations. The AIMS team consisted of Ms Noluvuyo Hobana, Mr David Kibe, Ms Funmilayo Makinde, Ms Abidemi Azeez, Mr Tijani Sulaimon, Ms Lorain Asongo, Ms Zakiena Hoossen, Mr Rock Stephane Koffi, Ms Zoe Hamel, Ms Rene January and Dr Rejoyce Gavhi-Molefe.
"As we conclude our National Youth Month, we hope this workshop inspired and motivated the learners to become the next generation of scientists, technologists, innovators and leaders in our nation. We also hope that our volunteers' students were encouraged to continue to pay it forward," said Dr Rejoyce Gavhi-Molefe
"Our South African youth must study Mathematics and Science in order for us to be a winning nation", Dr Govan Mbeki
Learners from the following schools attended the workshop: Joe Slovo Engineering School, Chumisa Primary School, Soyisile Primary School, Ridgeville Primary School, Rocklands Primary School, Rouxville Primary School, Imperial Primary School, Luhlaza High School and Heathfield High School
The workshop was part of the ongoing partnership between AIMS South Africa and the aforementioned schools and NPO's.